Order online here, or by phone at (919) 928-0382
THE PANAMA DECEPTION
A riveting Academy Award winning documentary, this special extended version is made all the more timely by recent U.S. invasions and the current "war on terror".
THE PANAMA DECEPTION documents the untold story of the December 1989 U.S. invasion of Panama, the events which led to it, the excessive force used, the enormity of the death and destruction and the devastating aftermath.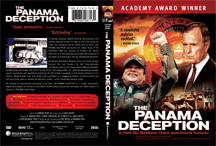 Acclaimed filmmakers Barbara Trent and David Kasper uncover the real reasons for this internationally condemned attack, and reveal General Manuel Noriega's longstanding relationship with the C.I.A., theD.E.A, and George Bush, Sr. Utilizing devastating footage, expert commentary and eyewitness testimony, the film shines a spotlight on this pivotal moment in U.S. history. Network news clips and media critics contribute to a staggering analysis of media control and self-censorship used to deceive the American public--a film hauntingly relevant today.
An example of documentary journalism at it's best, THE PANAMA DECEPTION is "...tough, provocative, highly opinionated...an answer to the official United States Government line about the 1989 invasion of Panama." (The New York Times)
New DVD Features: Follow-up Interviews with filmmakers Barbara Trent and David Kasper. The Politics of Demonization and Fear; The Future of Panama and Latin America ; Panama to Iraq; The Trajectory of U.S. Militarism; Panama after the Invasion, with former Panamanian Diplomat Humberto Brown, Phyllis Bennis (Institute for Policy Studies), and former CIA analyst David MacMichael; Trailers from GoodFilms.org; A Resource Guide with live web links; Filmmakers Biographies.
Read more, Watch the trailer
1992
Format: DVD
Running Time: 91 min

SOLDIERS SPEAK OUT

Soldiers Speak Out is a powerful, first-hand testament to the reality of the military experience, told entirely in the words of American veterans who have been to war and are now opposing it. We hear how they came to join the military, about their experiences in training and in war, and what led to the turning point when they decided they could no longer, in good conscience, participate in the war, or keep silent.
Soldiers Speak Out sheds light on the growing and courageous anti-war and anti-occupation movement within the military and their families. This half-hour documentary serves as a counter-recruitment and organizing tool for activists, schools, and organizations. It provides a sober view of the war in Iraq and an important counterpoint to the "stay-the-course" rhetoric of the Bush administration.
The DVD is packed with loads of bonus features, in addition to the documentary:
92 minutes of extended interviews with the veterans, 31 minutes of award-winning shorts: Beyond Babylon, 7 min, Camp Casey, 7 min, CAMS Promo, 2 min, Leave My Child Alone, 11 min, Looking Down, 4 min, 27 minutes of trailers from goodfilms.org
Music selection and resources with weblinks to important groups and information
Read more, and watch the trailer.

2006
Format: 1 DVD,
Running Time: 28 min. plus 2.5 hours of bonus material.
Inquire about special rates for high school students and quantity discounts. (919) 928-0382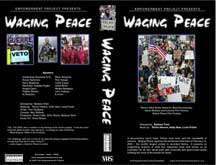 WAGING PEACE (DVD Version Available with 90min of bonus footage) Waging Peace focuses on how we can maintain and utilize the energy of the peace movement through very difficult times. A diverse range of organizers speak out on the impact of our efforts. This dialogue is situated within the historical context of protest and also emphasizes the importance of new tools at our command. Waging Peace will serve as a mobilizing inspiration for all those who continue to push past corporate and government power and insist the voice of the people be heard.
Screening with Home of the Brave at the Santa Barbara Film Festival.

Watch additional Interviews from our DVD with Phyliss Bennis, Leslie Cagan and Jamie Vasquez on the archive.org website.

2004
Format: DVD
Running Time: 30 min., with 90 min. of extra features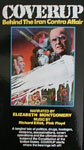 Coverup: Behind the Iran Contra Affair
The shadow government of assassins, arms dealers, drug smugglers, former CIA operatives and top US military personnel who were running foreign policy unaccountable to the public, revealing the Reagan/Bush administration's plan to use FEMA to institute martial law and ultimately suspend the Constitution. Strikingly relevant to current events. Read more

Watch the trailer

Format: DVD
1988
Running Time: 72 min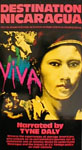 Destination Nicaragua
Experience the adventures of US citizens as they embark on an extraordinary journey to this hotbed of Central America. Travel with them as they discover for themselves the people, the issues and war zones. Visit the mothers of the martyrs, watch the contras as they embark on their covert missions and join thousands as they take this issue back to the streets of America. Read more.

1986
Format: DVD
Running Time: 60 min

Stand Up Rise Up: February 15th, 2003 NYC United For Peace and Justice Rally
On February 15th over 500,000 people attended a rally in New York City against the Bush Administration's drive toward war against Iraq. Organized by United For Peace and Justice this event was part of a worldwide effort, as tens of millions of people on every continent stood together to say no to war. Read more.

For a complete list of speakers featured in the video: click here

2003
Format: DVD
Running Time: 4 hours

Days of Resistance
This anti-war video, produced and directed by Barbara Trent, contains 2 distinct 1/2 hour programs, "Pledge of Resistance" and "No attack on Iraq", as well as a 5 minute trailer.
The video is a moving documentation of the growing resistance movement in the US and includes stage appearances and interviews with Jesse Jackson, Patti Smith, Susan Sarandon, Martin Sheen, Tim Robbins, Gabriel Byrne, Al Sharpton, Ramsey Clark, and leaders of a myriad of peace movement...

2002
Format: VHS
Running Time: 61 min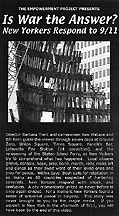 Is War The Answer: New Yorkers Respond to 9/11
A moving look at the response of New Yorkers most deeply affected by the attack of 9/11, juxtaposed with Bush's war message to NYC while mourners were still calling for peace. An enlightening look at an historic record that the networks never showed.
2001
Format: DVD
Running Time: 41 min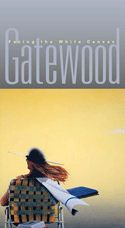 Gatewood: Facing the White Canvas
A documentary about the life and work of artist Maud Gatewood. A collaboration between Oscar-winning filmmaker David Kasper and artist Carlyle Poteat.

The DVD contains:
•The full one-hour documentary.
•Index with full views of 248 Gatewood paintings.
•Chronological 51-year slideshow of paintings.
•Sketches & Photos.
•Slideshow tour of Gatewood's house.
•Extra video segments.
•Soundtrack music.
More Info

2004
Format: DVD
Running Time: 58 minutes





Taking It To The Theaters:


The Empowerment Project's printed guide to theatrical and video self-distribution of issue-oriented films and videos.
1993
Pages: 30




Addicted to War: Why the U.S Can't Kick Militarism
An Illustrated expose' by Joel Andreas. This book takes on the most active, powerful and destructive military in the world. Hard-hitting, carefully documented with 145 reference notes, and heavily illustrated, ADDICTED TO WAR reveals why the U.S. has been involved in more wars in recent years than any other country.

2002
Pages: 64




This Is The Just Cause
Breaking the silence: Testimony of the Panamanian people, resulting from the U.S.A. invasion. A very different picture of what really happened when the Bush Administration invaded Panama, this book contains the personal stories and photographs of the Panamanian people and the shocking human toll.

1991
Pages: 70

Refund Policy: The Empowerment Project will completely refund a customers entire purchase minus shipping within 30 days of the purchase date. A credit will be issued immediately after notification of a refund request and return of all purchased products.


Films & Videos | Media Facility | Speaking Appearances | Resources | Contact Us | Home